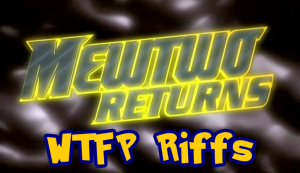 WTFP Riffs continues with our current production of Pokémon: Mewtwo Returns. While we watched this special feature for the first time EVER, we recorded our live commentary, as if the microphone was not there. We were pleasantly surprised that this resulted in the same kind of critical analysis and joke-making that we have always prided ourselves on, while watching Pokémon all these years! While others have riffed films in the past, it is important to emphasize what the end goal of our particular commentary is. It is only a stepping stone to the final, well-crafted video that we create. Our goal in releasing these WTFP Riffs for download is to show you just what it's like to be in the room with us as we begin the creative process.
The Mixed Form below is rather enjoyable on its own and a lot can be gained from just listening to the movie audio with commentary. If you want to listen to our commentary along with actually watching the video, it is up to you to find the film on your own, be it DVD or otherwise.
DOWNLOADS
— Mixed Form (commentary and movie audio synchronized)
— Raw Form (commentary only)
SECTION STARTING POINTS
— Mewtwo Returns (:50)
— Bottom Ten Breakdown/Discussion – Final Video SPOILERS (1:00:55)
If you have any lingering questions regarding the purpose of WTFP Riffs, please feel free to consult this blog post, which introduced the idea.